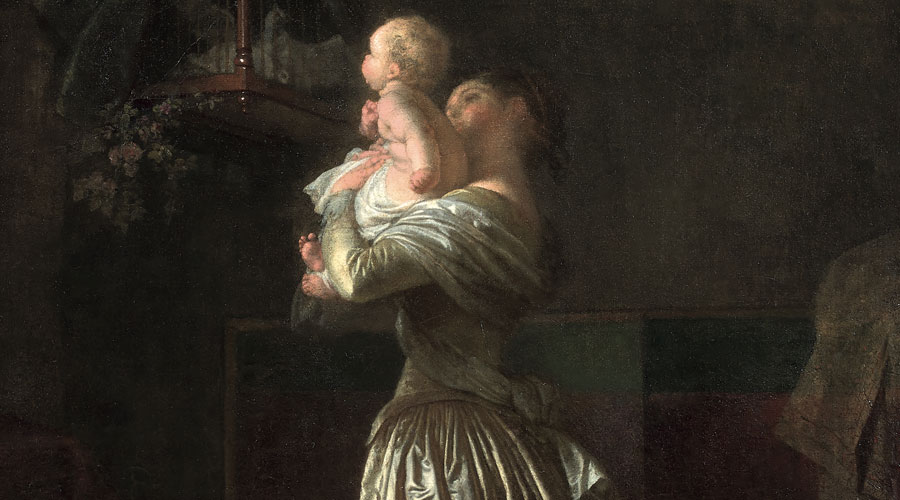 Jean-Honoré Fragonard, The Precious Bird, vers 1785 

Since opening in 2011, the Musée Jean-Honoré Fragonard has followed the rhythms of its temporary exhibitions, but the rooms devoted to the permanent collection had never changed in design. Very recent acquisitions have instead given the museum the opportunity to redesign its layout.
TWO PREVIOUSLY UNSEEN FRAGONARDS, INCLUDING ONE OF HIS MOST "REMBRANDTESQUE" COMPOSITIONS
Acquired just a few months ago, this small but dazzling, previously unseen Portrait of a Child by Jean-Honoré Fragonard now hangs next to a small painting by Marguerite Gérard that dates from that same year. The two artists often worked side by side on the same subject, each one asserting his or her own artistic identity. The same infant that Fragonard painted here also appears in a small painting at the Spencer Museum of Art at the University of Kansas, as well as in one of the most surprising discoveries in recent years.

The Precious Bird's reappearance a few months ago was an incredible surprise. According to Carole Blumenfeld and Jean-Pierre Cuzin, it resolves any doubts over his potential collaboration with Marguerite Gérard. The chiaroscuro lighting on the child and the leaning face of his mother in fact recall the Rembrandtesque light of The Lock. According to the description of the work made during the seizure of Duruey's assets and an engraving, Marguerite Gérard was inspired by The Precious Bird, but she changed the child's position along with several background elements. In Fragonard's painting, the movement of the figures through the space gives them a sense of realism, and they appear sculpted, as if in the round. The group appears to turn around itself. To the contrary, in Marguerite Gérard's The First Caresses of the Day, a veritable bas-relief, woman and child blend into the background.


Jean-Honoré Fragonard
Portrait of a Child
1786-1788 
Aside from these formal aspects, the two artists differ in their conceptions of domestic scenes. Bathed in the delicate interplay of light and painted with a sense of roundness, the infant who looks at the "precious birds" hides his mother's face. In Marguerite Gérard's work, the mother is always the protagonist. She was not out to depict a "child king," while Fragonard always focused on the infant. Isabelle Leegenhoek's remarkable restoration removed the many, thick layers of varnish that prevented a clear reading of this painting, and the image now appears once again in all its splendor.